<![if !vml]>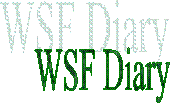 <![endif]>
HBF Newsletter
No. 11
1-12-2003
World Social Forum 2004, Mumbai, 16 – 21 January, 2004
Joint meeting of Content and Thematic Commission (CTC) and Programme Group (PG)
The joint session of the CTC and PG have decided to work out all possible means to accommodate most of the registered events. This would be possible by merging various proposals and by using the venues and spaces in different shifts. A new self-organised panel has emerged by combining a number of proposals on Solidarity Economics. Larger events will be held at NESCO grounds, the main venue of WSF and the adjoining premises of SRPF and Nirlon will be used for providing space for self-organised seminars and workshops. It would be ensured that the self-organised programme timings in the NESCO grounds would not clash with the WSF organised events.
There are around 1600 seminars/workshops and 80 large events registered in the self-organised category for WSF2004. Among the 1600 seminars/workshops registered, only 463 are from India, and among the 80 larger self-organised events, only six are from India. Registrations for self-organised events have been received from 81 countries. The number of registrations received from each region is as follows: 75 proposals from 24 countries in Africa; 657 proposals from 21 countries in Asia including the 463 proposals from India; 314 proposals from 21 countries in Europe; 154 proposals from the USA and Canada in North America; and 174 proposals from eleven countries in South/Central America. There would be thirteen events where 20,000 people would participate, three events where 10,000 people would participate, four events where 8000 people would participate and 106 events where 1000 people would participate and 315 events where 200-500 people would participate, 283 events where 100-200 people would participate, 399 events where 50-100 people would participate and 217 events where less than 50 people will participate and 16 events that have not specified the number of participants.
With the available space in the venue and its surroundings only 200 seminars/workshops could be held per day and there is a shortage of space for another 200 events. The Programme Group of IOC will request the International Council members to get in touch with the organisations that have proposed the self-organised from their country and confirm their participation and try to work out modalities to merge their events with similar proposals wherever it is feasible to do so. At NESCO grounds there would have 115 spaces and the seminars and workshops in this venue will only be held from 2pm to 5pm. In the adjacent venue of Nirlon grounds there are 40 spaces and in SRPF grounds there are 60 spaces where the seminars and workshops will be held on a shift basis from 9am-12pm, 12.30-3.30pm, and 4-7pm.
The 80 larger events registered were discussed in detail and those, which could be combined, and the ones that could be converted into seminars were identified. It is not just the big events that are so combined, the seminars and workshops registered on the theme Solidarity Economics is being combined to form a new self organised panel/debate on the same theme. The final tally of large self-organised events is 27 panels/debates and four conferences. Total of 31 spaces are available the self-organised large events.
The four self-organised conferences include Women and Globalisation by Women's Movement Caucus, India; US occupation of Iraq and the problem of Palestine and Afghanistan by the Coalition for Nuclear Disarmament and Peace (CNDP); World Dignity Forum by National Confederation of Dalit Organisations (NACDOR), Heinrich Boell Foundation and others; and Development Induced Displacement: Perspectives and Strategies by National Alliance of People's Movements (NAPM). These four conferences would be held in the afternoons and each of them would have a capacity of 8000 peoples. Eleven panels/debates would be held in the morning from 9am to 12pm and each would have a capacity of 4000 people. Sixteen panels would be held in the afternoon from 2pm to 5pm and they would have a capacity of 4000 people each. The titles and the respective countries from which these proposals for the self-organised panels and debates came, include Survival of Indigenous People/Adivasis Globally from Finland; Tribals and Indigenous People: Victims of Systematic Violence from India; Debt, Free Trade and Militarisation:
World Social Forum 2004, Mumbai, 16 – 21 January, 2004
The Imperialist strategy in the Americas and the Resistance from Cuba; Political Organisations: The new emancipatory struggle that strengthen a radical democracy from Uruguay; Grassroots Organising and Movements against NAFTA and FTAA from Italy; Where next for the International Trade Campaign from United Kingdom; Les Objectifs du Millennaire pour le Developpement: la communaute internationale face a ses responsabilities from Belgium; People's World Water Forum from Philipppines; Democratic Control of Common Good: Food Security, Livelihoods and Human Rights from Nepal and Latin America; Children's Rights in a Globalising World from United Kingdom; Globalise Human Rights from India; Combat against Common Enemy from India; Diverse Alternatives for Global Changes from Ecuador; A dialogue between movements from India; Engagement with Gandhi: An Alternative World View from India; World Court of Women against War as Crime form India; Finance, Crime and New Imperialism from India; Beyond Good Intentions: Strategies for Corporate Accountability from United Kingdom; Corporate Crime: Testimonies from Affected Communities from India; Combating Unilateralism and reforming the United Nations from Brazil; Socialism Today: Challenges from India; Nothing About Us! Without Us! from United States; Combating Exploitative Migration of Women and Children through Trafficking from Japan; HIV/AIDS and Human Rights from Kenya; Dialogue between various movements on sexuality issues form India; Mobilising Solidarity from India; Intercontinental Dialogue on Tourism from India and the panel on Solidarity Economics.
Solidarity Tents
Spaces with the capacity of 500 and 1000 people are available for solidarity events. These tents would be available in two shifts, i.e., from 9am to 2pm and from 2pm to 8pm. The smaller tent with a capacity of 500 people would cost INR 5000 per shift and the bigger tent with 1000 people capacity would be available for INR 10,000 per shift. Registration for these tents is open now and organisations and movements interested in holding solidarity events in these tents may contact the venue and logistics group or the programme group of the WSF.
Land First Mela
The Ekta Parishad and the National Committee on Land Rights would organise a Land First Mela (festival) near to the WSF venue in Mumbai from January 18th to 20th, 2004. Around 700 villagers and rural leaders would participate in this festival and create an ambience of a village and celebrate their positive stories through cultural expressions, testimonies, speeches and other ceremonies. This festival is intended to be a fellowship of people involved in land rights struggles all over the world.
General Assembly of the Global Anti-War Movement
The general assembly of the global anti-war movement would be held during the WSF2004 in Mumbai, India. Recognizing that confronting a global warmonger requires an internationally coordinated strategy, the assembly is envisioned to be the biggest and most representative meeting of the anti-war movement yet since the invasion of Iraq. The meeting is intended to be an occasion for discussing and debating the global situation as well as plans and priorities. The five components of this session include strategy sessions, self-organised events, activist's meetings, closing conference and a solidarity march.
Forthcoming Events
• Meetings of all functional groups will be held on December 20, 2003 at Mumbai.
• Joint meeting of India Organising Committee, India Working Committee and India General Council will be held on December 21, at Mumbai.